Our Aim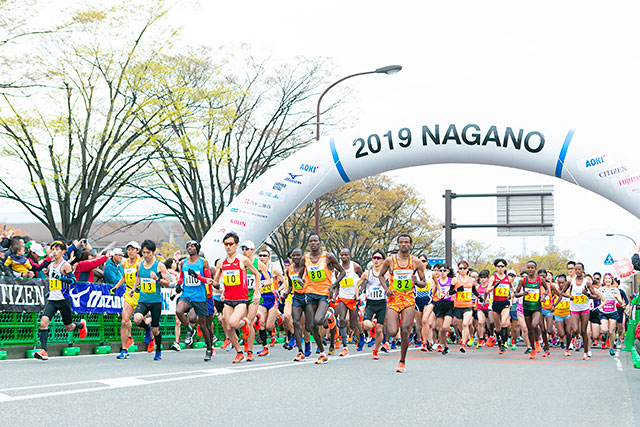 The Nagano Marathon vies to bring back the inspiration experienced during the Olympic Winter Games ( Nagano 1998 ), providing an annual event to keep the excitement forever alive! It also aims to contribute to the development of regional sports, culture and the Olympic movement and to provide an unique opportunity for amateurs and world-class athletes to run together, expanding the horizons of running.
"Nagano Marathon" aims to uphold the ideals of the Nagano Olympics and fulfill the dreams of future generations while in coexistence with an environment rich in nature.
2020 Race Information
Host Organizations
JOC ( Japanese Olympic Committee ) / JAAF ( Japan Association of Athletics Federations ) /

Nagano Prefecture / Nagano City / The Shinano Mainichi Shinbun Inc.

Co-Host
NHK ( Japan Broadcasting Corporation )
Special Associates
Hellenic Amateur Athletic Federation ( SEGAS ) / SBC
Superintendent
Nagano Amateur Athletic Association
Patrons
Ministry of Foreign Affairs / Japan Sports Agency / Nagano Prefecture Board of Education /

Nagano Prefecture Amateur Sports Association / Kyodo News Agency /

Nagano City Board of Education and others
Cooperating Organizations
Ministry of Land, Infrastructure, and Transport / Nagano Prefectural Police Department /

Nagano Highway Public Corporation / Nagano Prefecture Medical Association /

Nagano Prefecture Traffic Safety Confederation and others
Race Date
Sunday, April 19, 2020 Start Time: 8:30
Event
Marathon ( 42.195km )
Course
Nagano Marathon Course
Starting Point: Nagano Sports Park ( Nagano City )
Finishing Point: Nagano Olympic Stadium ( Nagano City )
*Accredited by the JAAF and AIMS.
Competition Rules
Pursuant to the rules of the Japan Association of Athletics Federations for the year 2020 and those of current event.
Time Limit for Finish
5 hours
Gate Regulations

Gates are set up every 5km with closing times scheduled as stated below. Athletes who arrive at a gate after the closing time will not be allowed to participate in the race thereafter.
Furthermore, those who are still running between the gates in question after the closing time have to stop.

*Gate points and the closing times are subject to change.

< Gate Closing Times >

| | |
| --- | --- |
| 5.1km | 48mins (after the start) |
| 10.4km | 86mins |
| 14.8km | 116mins |
| 20.8km | 158mins |
| 25.1km | 188mins |
| 29.9km | 222mins |
| 34.3km | 253mins |
| 39.3km | 288mins |
| 41.1km | 299mins |

Eligibility

Invitational Athletes
Japanese and non-Japanese athletes with the recommendation of the JAAF and hosting committee.
Open Category
Men and women 18 years of age or older as of April 19, 2020.
※High School students are not allowed to participate in this race.
※There is no wheel-chair category for the full marathon.

Entry Quota
500 people for overseas runners selected in order of receipt application.
*Entire entry quota is 10,000 people
Entry Fee
12,100 Japanese Yen ( including tax, a souvenir kit and finisher's certificate )
Entry Term
Entries for foreigners ( non-Japanese ) living in Japan or abroad will be accepted from 10:00 a.m., October 19, 2019.
Participants Receive

Original T-shirt, and others. *A finisher will receive a "Finisher's towel and medal" upon finishing.

[T-shirt size]

| Size | Chest ( cm ) | Height ( cm ) |
| --- | --- | --- |
| SS | 70 - 78 | 150 - 158 |
| S | 85 - 91 | 162 - 168 |
| M | 89 - 95 | 167 - 173 |
| L | 93 - 99 | 172 - 178 |
| LL | 97 - 103 | 177 - 184 |

Awards

Overall:
1st place to 8th place will be awarded prizes for both men and women.
Age Group:
1st place to 6th place in respective age groups below will be awarded prizes for both men and women in accordance with chip time.
However, an awards ceremony will not be held. Certificates and other awards will be mailed at a later date.
under 25, 25-29, 30-34, 35-39, 40-44, 45-49, 50-54, 55-59, 60-64, 65-69, 70-74, 75-79, over 80
Participation Rules
In the case of unforeseen circumstances ( i.e. natural disaster ) whereby the marathon must be cancelled, entry fees will not be refunded.
The organizers will guarantee for the provision of first-aid medical help for injuries occurring during the race only. Any additional and/or other medical assistance required is the responsibility of the participant. It is hereupon requested that participants arrange for accident insurance in advance of participating in the race. The organizers will make no provision for accident insurance on behalf of participants.
All participants should be able to run a full marathon in 5 hours. After the entry is made, start training for the race.
Participants are responsible for undergoing a physical examination administered by a doctor prior to the race to ensure sound physical condition.
Race officials have the right to stop runners who appear unable to run further or who are interfering with other runners ( i.e. running backwards or in an otherwise irregular manner ).
Runners must honor closing gate times, any objections will not be tolerated.
Substitute runners are prohibited. Upon detection, the participant will be disqualified.
Furthermore, the substitute runner is not covered by marathon insurance.
Participants are requested to agree in advance to have their pictures taken during the race and possibly used in printed matter such as the event program or on the marathon website.
They also are required to allow sponsors free use of their pictures for entrants' brochures and newspapers.
Participants are not supposed to wear or post anything that advertises a particular brand, company name or design in the event area ( marathon course included ). Running in disguise is not allowed.
No costumes or disguises are allowed. As well, participants must obey all instructions by the officials.
Visually handicapped runners are required to run with accompanying runners. Accompanying runners are obliged to indicate as such clearly.
Though we provide water, sport drinks and sponges at aid stations, we can not make arrangements for special drinks for everyone because of operational reasons. Please understand special drinks are provided only for invitational runners.
The organizers agree to keep all personal information, such as name, address etc. confidential.
However for sake of competition result posting and mailing notifications, the organizers reserve the right to use.
All personal valuables are the responsibility of the participants. Organizers accept no responsibility for lost or stolen items.
Entries cannot be changed or cancelled. In the event that a participant is not able to participate, entry fees will not be refunded.
The race will be timed with an RC chip ( Runners Champion Chip ). Make sure that the RC chip is attached to the back of your race number before the race ( the RC chip will be provided with your race number ).
Awards for the overall category will be based on the time from the starter's pistol. Awards for age categories, however, will be based on chip time ( from the time the runner crosses the starting line to crossing the finishing line ).
Please note that Organizers will not act as guarantors for participants requiring visas.
Please refrain from using earphones while running in order to ensure the safety.
When you change your running route during the race, please make sure of the safety and avoid accidental contact. Please note that we also have visually impaired runners in the race.
Thank you for your cooperation.
Copyright
© Nagano Marathon.
All rights reserved.